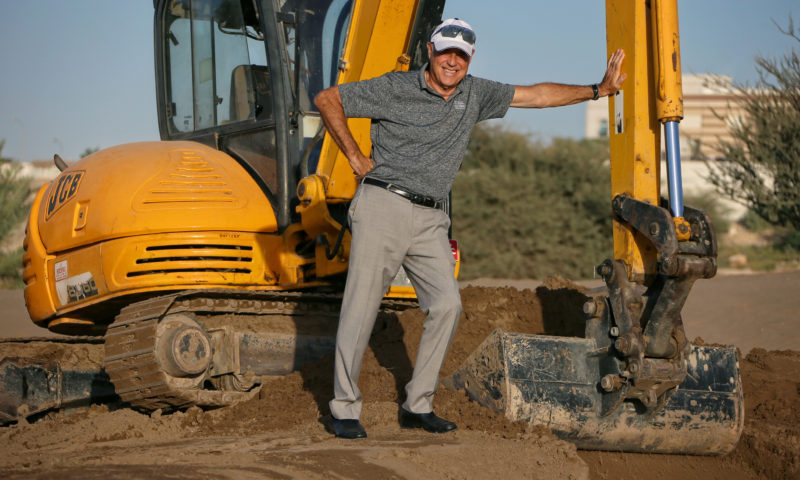 Tour Professionals Excited By World Class Dellanzo Design
The MENA Tour Pros gave the thumbs up and endorsed the work by Dellanzo Design at their annual MENA Tour Ghala Championship, (Middle East North Africa Tour) at Ghala Golf Club, Sultanate of Oman last week – an initiative of The Sheik Maktoum Golf Foundation, The Arab Golf Federation and the R&A.
Player after player arrived in the beautiful new clubhouse raving about their experience at the new Ghala Golf Club. "The changes are incredible," they said, and "the bunkers are new but look like they have been bedded in for years, the new practice ground targets are perfect. The designers playing with our minds visually on those fairway bunkers especially on 14. Some of these Par 3's are the best I have seen anywhere in the world. The sandscapes, aesthetics and mountain backdrop are just beautiful." Comments were made amongst others by tour professionals Rocco Sanjust, Zane Scotland, Chris Cannon, Andrew Mitchell and other pros. "A huge improvement has been made in every area," said Rod Bogg, Manager of The Mena Tour, Tournament Operations.
Tournament winner Aaron Leitmannstetter overhauled a five-shot deficit to capture the Ghala Open for his maiden victory on the MENA Golf Tour on Wednesday. The 23-year-old German closed with a superb six-under 66 to reach 10-under for the tournament.   Leitmannstetter reeled off seven birdies as he become the first German to inscribe his name on a MENA Golf Trophy.
He said: "First time here was three years ago, it was basically pretty much a sand course, amazing: to see how things have changed and how world class it is now, everything is spot on, it is more playable, a real test of golf. Before it was too narrow but now very fair for everyone. Now to see how it has developed is great, it has gone in a world class direction. My favourite hole? I like them all but 18 is a very good challenge, a good birdie opportunity but very subtle with the sand and water, great risk and reward hole. Other signature holes are 4/5/and 6 which are amazing. I like the course and think the design team have done a very, very good job.
The redesign at Ghala Golf Club was done by Paul Dellanzo PGA and Lead Designer, Dr Beatrice Franceschi, from Florence, Italy. "The design division has grown quickly and built a first class design team whose experience includes numerous courses including some of the best ranked in the world. The club was originally a sand course built on a public rubbish tip. We pulled a washing machine out on one hole when digging and shaping a bunker. The technical, infrastructure, labour, machinery, irrigation and supply issues made it the most challenging project of my life," said Paul Dellanzo, "but easily the most rewarding.  The Board members and club members were fantastic and I cannot say enough good things about Oman and its people. Ghala Golf Club now has a fun exciting course, the only club in Muscat with a clubhouse, the best location close to the city centre and the best prices for membership and guest fees.  It is a uniquely friendly club with a great atmosphere. With the right marketing and management this should be the busiest club in Oman and a superb destination for incoming tourism."
"This is now an exciting new layout   that will be one of the best courses in the region," said Ziyad Al Zubair, Board Member. "Paul Dellanzo personally handled the design and project management and the methodology was impressive and he and his Lead Designer, Dr Franceschi were a perfect team on site adjusting the design nuances in detail daily, this is a bespoke design rather than other companies that show up occasionally.  It was completed on time and in budget and with considerable savings. Paul always had a Plan A, B and C to resolve challenges as they arose, it has been an absolute privilege to work with them."
Emilio Dellanzo, Director said: "Our quality and price ratio is unbeatable, this throws down the gauntlet to the other design companies and our project management proves that  contracting work can be done in house and save thirty to forty percent on normal construction costs. Our courses are designed personally in detail rather than the cut and paste approach of some big names. Dr Franceschi provides an artistic and creative approach, she paints the golfing landscape in a way that only an Italian designer can, unique. Every hole is different and memorable.
"This was a huge job on a tight budget. We have provided a sustainable semi-arid Arizona style layout that uses much less water, 60 new bunkers, new sandscapes with 15,000 new plants and over 100 carefully positioned new palm trees that fit into the sand and mountain backdrop. Importantly a course playable by everyone rather than the overly long, overly difficult courses built during the last twenty years and in the desert with wall to wall grass which are just not sustainable. Our management and global golf advisory services are available to guarantee the success of facilities and drive revenue directly to them."
Mohamed Juma , Chairman of The MENA Tour, said: "The club has done a tremendous job in upgrading facilities to realise the course's full potential. The fact a new course record of a 65 was set during the tournament shows the course is more playable and offers a good test of golf. The work done by Ghala Golf Club also showcases great strides made by Oman in putting together a solid infrastructure for golf that strongly endorses the country's commitment to stimulate the growth of golf in the region and beyond."